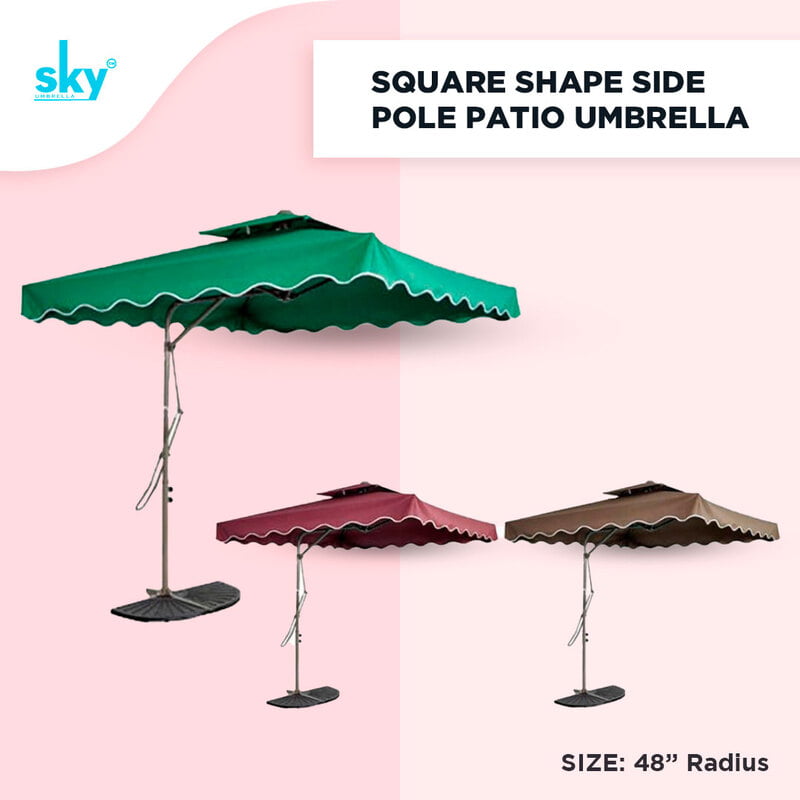 Square shape Side Pole Patio Umbrella
Offering you a complete choice of products which include garden side pole
\square umbrellas, garden umbrella,
resort umbrella, center pole umbrella,
cantilever side pole umbrellas and pool side umbrella.
Brand Name: Sky Umbrella
Product: Garden Umbrella, Beach Umbrella, Patio Umbrella, Outdoor Umbrella, Advertising Umbrella
Control: Manual Open
Fabric: Oxford fabric, Water resistant – 230 GSM.

Function: Garden Umbrella
Type: Umbrellas
Color: Green & Maroon
Base: 35 Kgs Granite Base
Size: Height: 8 foot
This Garden Umbrella usage in activities, resorts and exhibitions. They also make excellent advertising tools which can reach your target audience very effectively. These umbrellas are provided in different types such as; garden umbrella, beach umbrella, patio umbrella and outdoor advertising umbrella.
Can be single used or mixed used with different sizes and quantities for wide outdoor applications. Good for party, wedding, product show, advertisement, trade promotion, exhibition, celebration, garden shade, flowing booth, outdoor leisure and sports, ceremony, warehouse, canvas top and other outdoor events.
*BASE IS NOT INCLUDED WITH UMBRELLA